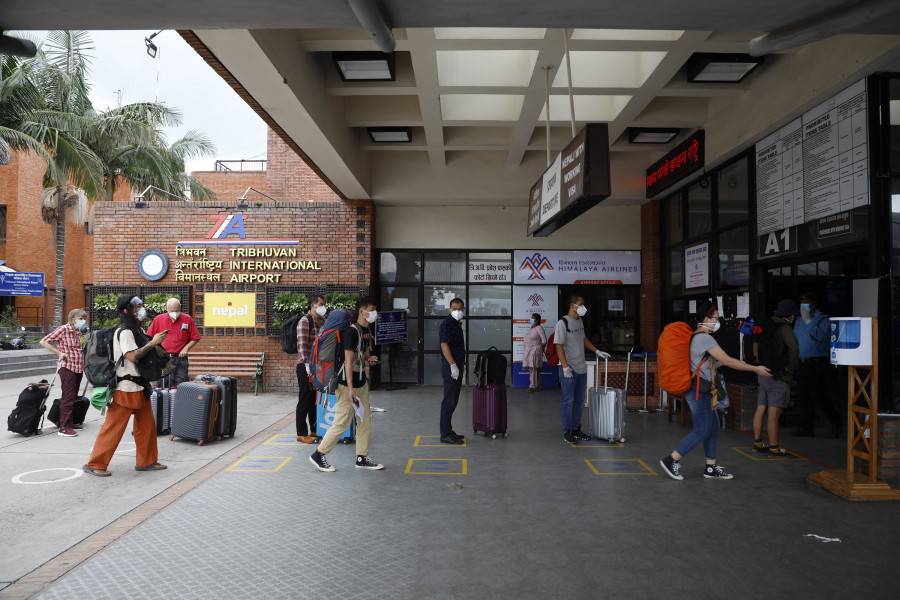 After landing at JFK Airport, as I was getting through US Customs and Border Protection, I was asked where I had travelled in the past 14 days. When I said I had travelled to India, I was told I could not enter the USA as India is still in the restricted country list. I spent 10 hours alone in a room and then boarded a flight back to Doha on my way back to Nepal. 
In times like these, when travel advisories change frequently, the onus is on the airlines to ask the key questions. I was never asked in Kathmandu or Doha about my previous travels. In the USA, of course, they are doing their job as they say. They lectured me on the Presidential proclamation of restrictions and the way one was treated; it was not different from the others who had issues entering the USA. They told me they were being generous and not cancelling my visa. I was left pondering: Who do you rely for information as the scenario changes each time? 
Last week, in New Delhi, when I went to get a new sim card for my phone as the old one had expired since it had not been used since the pandemic, I was surprisingly told that you needed to have a visa to be able to get it. I saw the electronic form used by the vendor on his mobile, and there was a provision that could not be over-ridden. So, I was stuck with no sim card. Then I realised that data while roaming was not working, and I could not use the free wifi at New Delhi airport as the one-time password was not working through a Nepal number. 
I was with electronic tickets, all forms stored in the cloud. But I could not enter the airport as I had no printed ticket, and I could not access anything online. We may be used to so much digital stuff during the pandemic, but it seems keeping printouts for backup is still essential.
New travel environment
Airports are just getting back to normal; and people whose jobs are secure, pandemic or no pandemic, are upset they are getting back to normal. Government staff, people in security and other fixed tenure job holders, who kept their jobs during the pandemic and will not lose them if there are subsequent waves, are unhappy things are getting back to normal. I have been shuttling the past couple of weeks, and they are complaining things are getting back to normal. They have not changed their ways and do not want to adhere to the new normal. For instance, one would show one's boarding pass across the glass partition, but they want to touch and feel it. When I told them that you should avoid touching hundreds of boarding passes and smart phones, he sternly told me that "corona is gone"! 
It would be best to get ready for airports that can be super hot like the one in Bhadrapur and have no air-conditioning and dilapidated ceiling fans. Mosquitoes improve your travel experience as per the airport regulators of Nepal, so do not forget to carry repellent sprays. There are generally no good places to eat at airports in Nepal, so be prepared with food and drinks. You are not sure how many hours your flight can be delayed, and it is not easy to travel in and out of airports unless you are one of the VIPs. Of course, do not drink too much water or get to try the local fare; the toilets at the domestic airports are sinus treatment centres that you would like to avoid!
There are QR codes and bar codes on everything; but in Nepal, they are never scanned or used by anyone. They go back to writing by hand or not checking at all. There is the great Covid-19 Crisis Management Centre (CCMC) form we all have to fill up when departing, but it never seems to be limited. It takes a while to fill the form. It has a wonderful section where you are asked your last 30-day travel history, and there are no options for flights, though there are options for "walking". In Nepal, people have very little expectation from the government, and they will only complain when things go down the drain, as happened in the case of vaccine certification.
In a country with the highest per capita VIPs, people don't care as they are above the rules, so they can get away without bothering to do anything. Exactly two years ago, I volunteered to manage crowds at the airport, which I wrote about. I was assured of improvements, but they never seemed to have happened. We could read the frustrations of entrepreneur and author Jiba Lamichhane on his Facebook wall, and he also responded to authorities who got back to him, but it's just temporary. So one has to be ready for queues, delays and challenges one can only meditate through.
Of course, some companies have been able to transform. At the Oberoi Grand in Kolkata, the entire experience was made contactless apart from getting the key!
Memorable experiences
In my column a month ago, we had discussed reviving tourism and focusing on experience; but for this one, the key issue we need to address is having a competition and pushing collusion out. At Kathmandu's international airport, you have a new option with the opening of a lounge by the Soaltee Hotel. Hopefully, domestic airlines will also give competitive differential services for their frequent fliers.
Travelling is back, but so are newer sets of problems. It seems you will never know about the problems until you land in one.
https://kathmandupost.com/columns/2021/10/18/travelling-is-not-the-same